In a day
you can fly the drone you built!
Easily build your 1st drone in about a day.
Your guided tour has everything you need.
You get 83 sections of 61 professional videos & a few helpful handouts. Over 4-hours of video instruction.
Want more?
Over 200 pages of optional content & PDF's. Online support & live group chats too! Follow along with me as we build together.
Our exclusive
5-System Group Teaching Method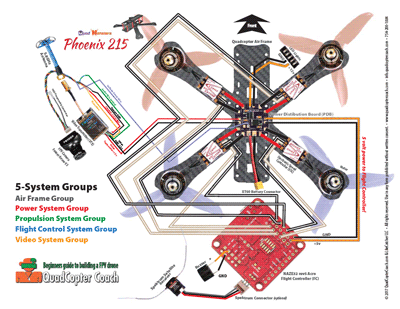 makes learning so easy and it's only available here!
There has never been anything like this before.
Not even on YouTube!
Just follow along with our professional quality videos. Download our printable worksheets for even more guidance! Help is here with Regular office hours if you get stuck. Community Forums, Email, Chat, "Skype"...We've got you covered!
Why, because I really want you to enjoy the fastest growing sport on the planet. It really is a ton of fun; building or flying.
BUILD A DRONE
THAT'S PERFECT FOR YOU:
If you always wanted to
build your own FPV drone,
but were intimidated by all the
YouTube video tutorials,
this course is for you.


Who is this drone course for?
If you have never built a drone before, great. If you've built a drone but had difficulty, that's fine too.
It's time to get our feet wet now. This course is not for people trying to create the latest, fastest, and most advanced drone. We can do that later because it's best to learn to walk before running.

Follow along with me as we build our first FPV drone together, in small steps, clearly and simply. Learning the how and why as we go. Videos, pictures, written instructions, online support, and live group video chat too. We even take our first flights together.
You can become a drone engineer!
You will be transformed from a newbie to an experienced drone builder,
ready to build your 2nd drone all by yourself!
I can't wait to help you build your own first FPV drone!
So why build your own drone when I could buy a built ready-to-fly model?
Truth is, you will probably crash on your first few flights. Things will break. Its hard to fix what you don't understand. But like Captain Kirk, you too will know your ship like the back of your hand. Like Scotty, you know how to balance that warp core! (No disrespect to StarWars fans) Why? Because you built it yourself!
~READ MORE~
So what is the sport of FPV racing drone?
FPV means "First Person View" much like a video game. It's like the StarWars ride at Disney only it's real.
~READ MORE~
I hope you'll join me.
Cheers,
Joel LikeCatcher

Join the newsletter
Subscribe to get our latest QuadCopter Content by email